Lead acid replacement battery 12V 5A LiFePO4 battery for UPS storage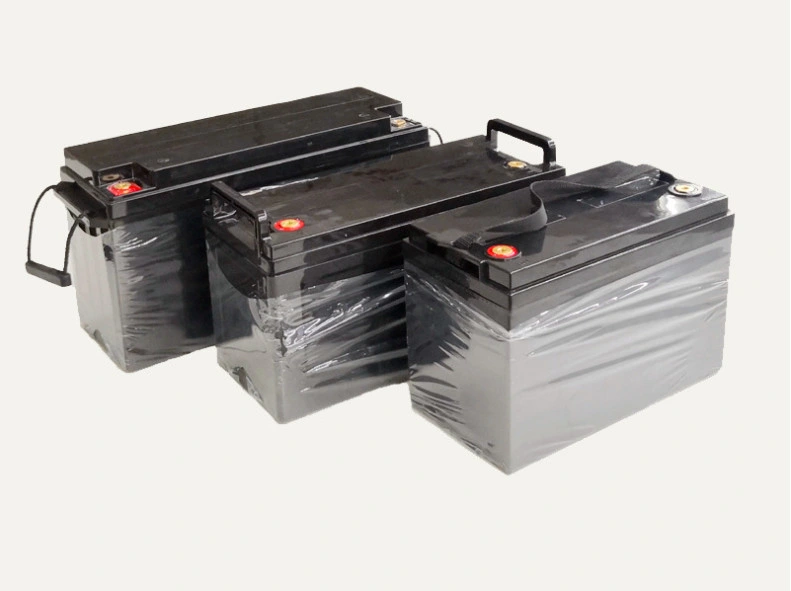 The Deyee Lithium-Iron Phosphate Battery is perfect for deep-cycle applications including cabins, solar/ wind energy systems, UPS battery backups, telecommunication systems, medical equipment, and more . Unlike gel or lead-acid batteries, the Deyee LFP battery is safer, lighter, and more powerful with a long service and shelf life to boot . Invest in this sealed , maintenance-free battery for your off-grid system today !
Lifepo4 battery 12V 5AH Specifications

Model

LFP-DY12V5AH

Electric Characteristics

Nominal Voltage

12V

Rated Capacity (0.2C)

5AH

Energy

60Wh

Internal Resistance

≤ 50mΩ

Cycle life (0.2C,20ºC±5ºC)

2000 cycles @ 80% DOD

Charging Parameters

Maximum Charge Current

5A

Charge Cut-off Voltage

14.6V

Discharging Parameters

Maximun Continuous Discharge Current

5A

Discharge Cut-off Voltage

10V

Temperature Parameters

Operation Temperature Range
60+-25% R.H.)

Charge: 0-45ºC

Discharge:-20ºC~60ºC

Recommend:23±5ºC

Storage Temperature Range
(60+-25% R.H.)

Less than 1 Year :0-25ºC

Less than 3 Months: -10~35ºC

Mechanical Properties

Dimensions

Length: 90mm

Width: 70mm

Height:100mm

Weight

0.8KG

Housing Material

ABS+PC

Terminal Model

M8*1.25MM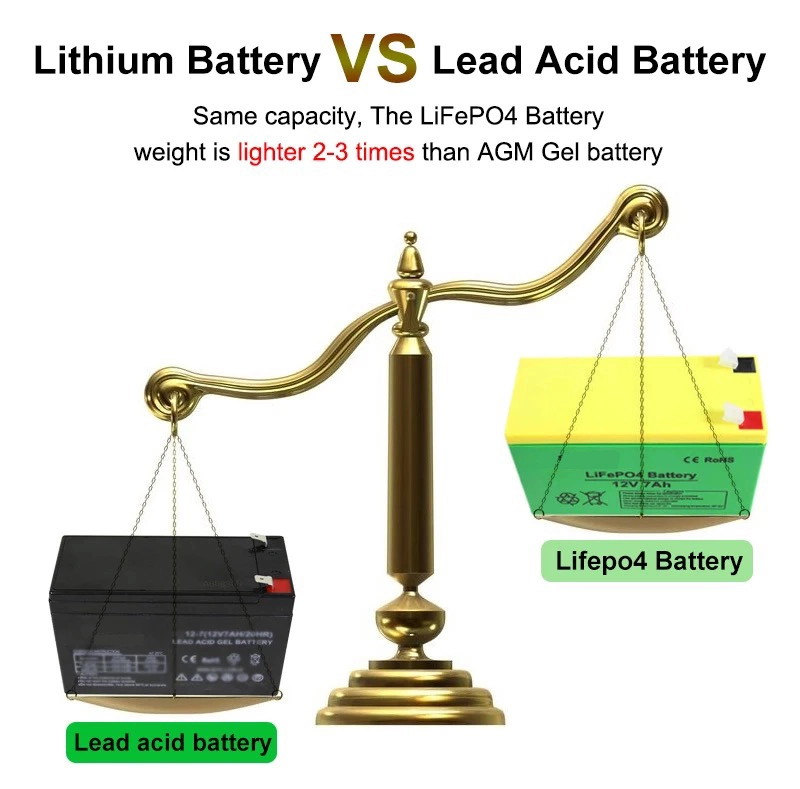 Appliction :
1, AGV cars/ AGV robots/ Self-guided vehicle
2, Communication device
3, Security system/ Alarm system
4, Flashlight / LED light and other lighting equipment
5, Logistics storage equipment
6, Mine geological survey equipment
7, Medical equipment
8, Wireless camera / Speaker
9, Robot / Electric toys
10, Tracker / Tracker and other automotive products
11, Other electrical equipment
Advantages of lithium-ion battery packs:
* High energy density
* High voltage
* No pollution
* Long cycle life
* No memory effect
* Low self-discharge rate
* High-rate charge / discharge
Look here for more product series !!!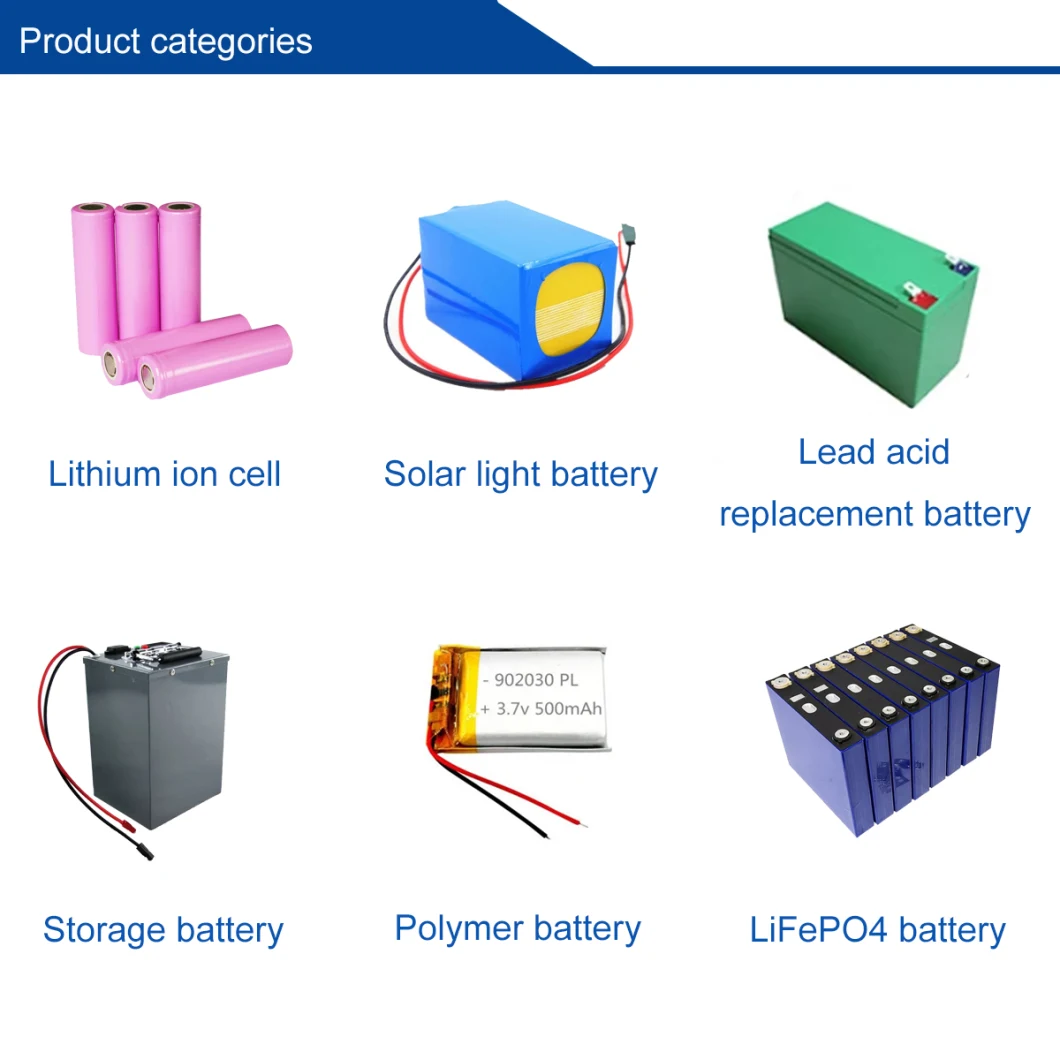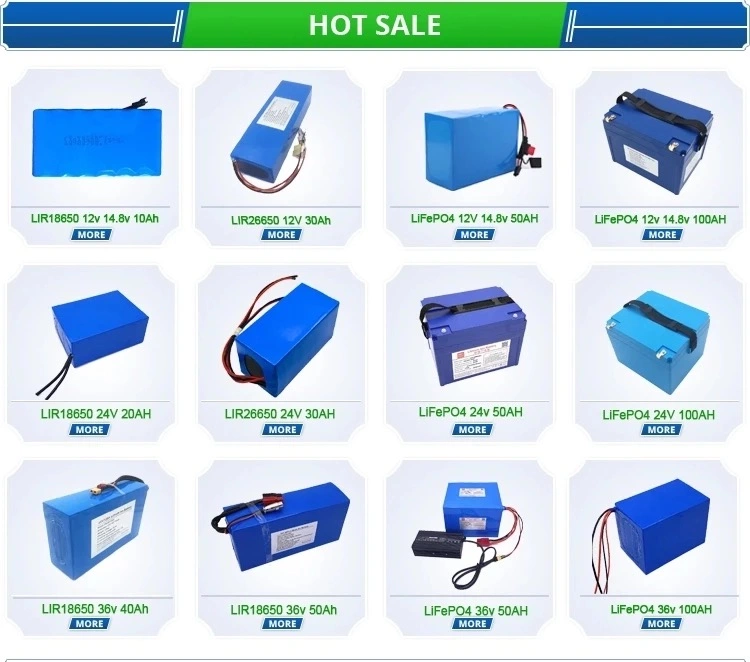 Company information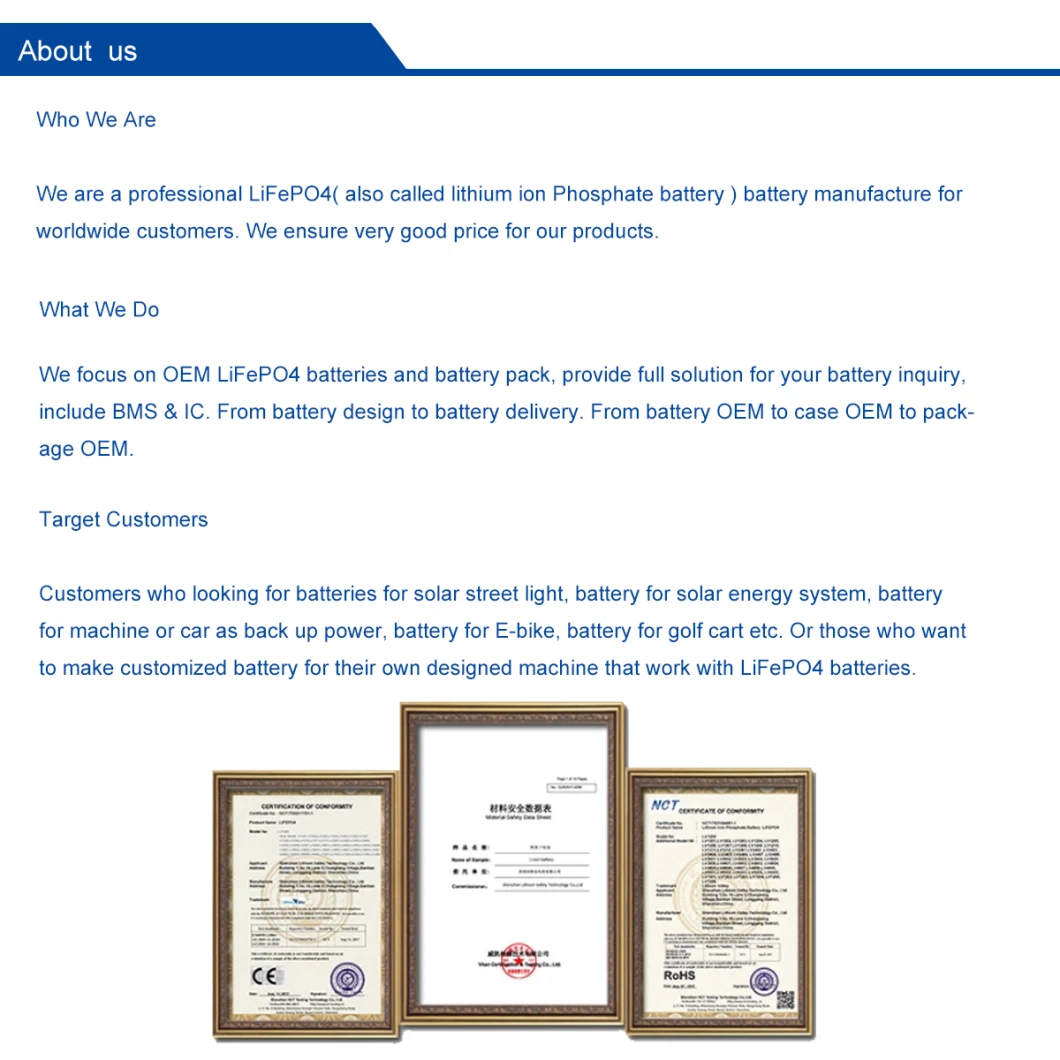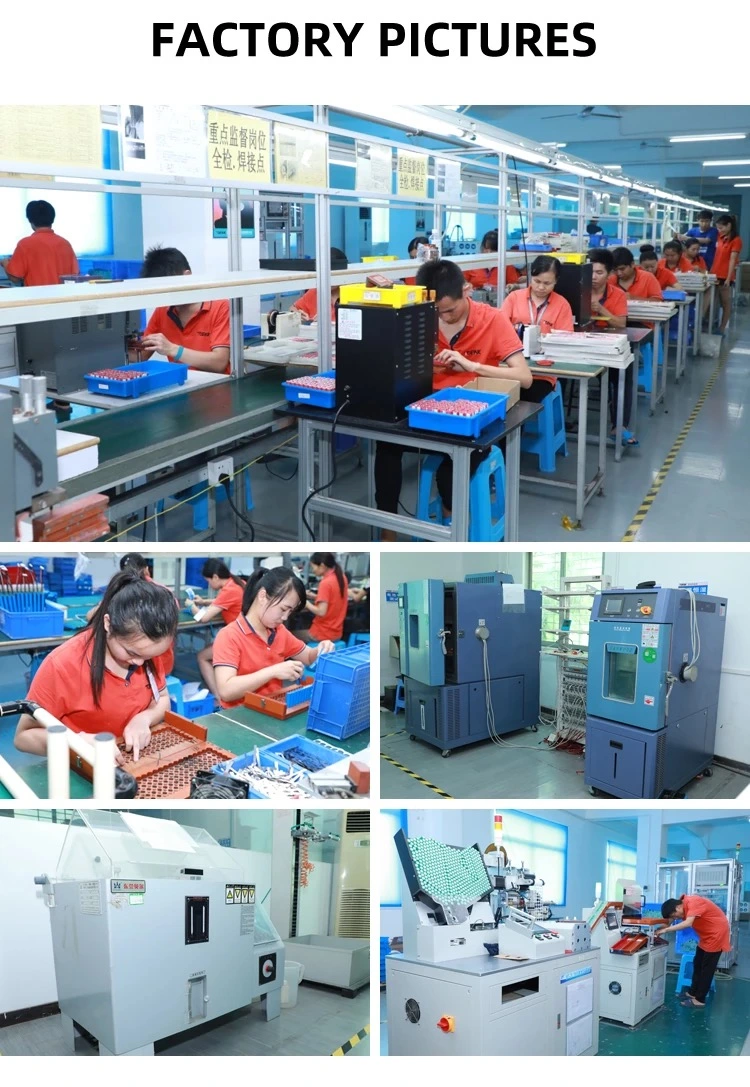 Payment & Shipping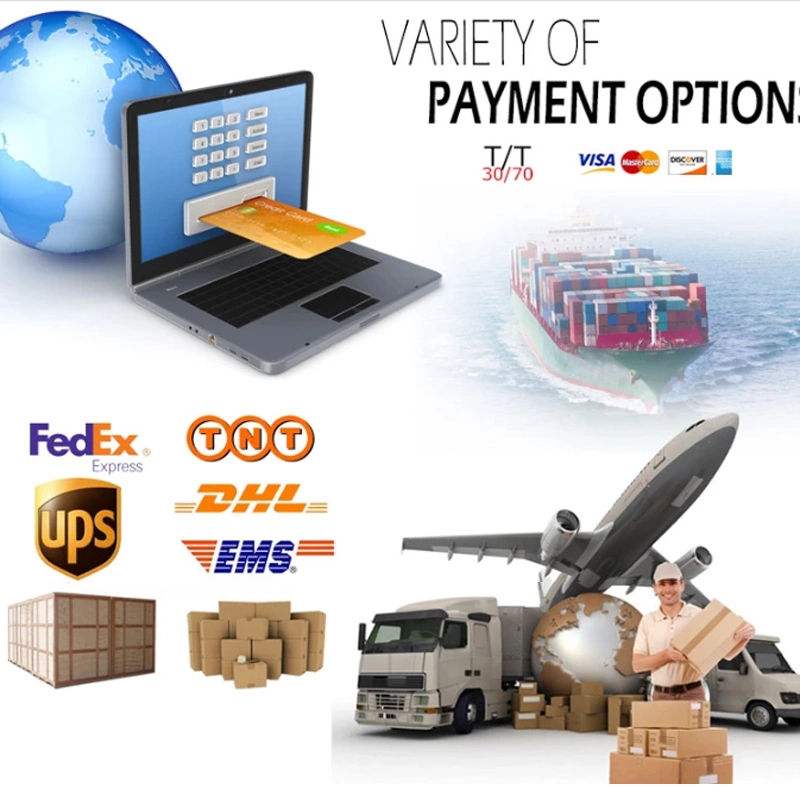 FAQ
Q1.Can you ship battery out of China?
R1:Yes,we can ship to any country out of China,you can tell us your address to check.
Q2.How do you ship the LiFePo4 battery packs?
R2:For sample order or small battery packs,we can ship by express through Fedex,UPS,TNT etc.If whole parcel over 100KG,can ship by air or by sea,sea shipping is more cheaper.
Customer can tell your nearest airport name and sea port name for us to check the best option for you.

Q3.Can we put different LiFePO4 battery pack in parallel or series by ourself?
R3:Yes. The battery can be put in parallel or series by customers. But there are few tips we need to
pay attention:
1)Make sure the voltage of each battery are same before put inparallel. If they are not same, charge them to the same rate.

2)Don't not put discharged battery and undischarged battery in parallel. This may reduce the capacity of the whole battery pack.

3)Advise us the target capacity of the whole pack if you would like to put them in series. We will choose the suitable BMS for each battery.

4)If you are not professional in parallel and series batteries, please don't handle the battery by yourself. It may cause danger and hurt the cycle life of battery.
Q4.Can we put different LiFePO4 battery pack in series by ourself?
R4:You can buy big voltage directly from us.We suggest do not make them in series by yourself if you do not have experience,this will hurt the cycle life of the pack.
Q5.Does your battery pack include BMS?Can we use it for car?
R5:Yes,our battery pack include BMS,you can use it for low speed car only or aux. power for standard car.Do not use it for standard car directly,that will need more complex design BMS for the pack.
Q6.What is your warranty?
R6:We offer 12 months warranty for lithium ion battery pack and 2 years warranty for all our battery pack.we ensure at least 2000 cycle life for the LiFePO4 battery pack,which means,after 2000@80% DOD,there will still around 60% capacityt left.You can use it for at least 5 years for normal 1 time charge and discharge everyday.
Welcome to place an order NOW !!!