Economic storage 4kw 5kw 6kw Solar System with Byd Catl Battery
Product Description

5kw residential storage solar power system is needed by family and is usually installed on sloped or plain rooftop. Solar-plus-battery systems would offer important benefits, such as backup power for important loads when the grid is in trouble and cut cost via peak demand shaving and time-of-use shifting.

The storage inverter can provide high quality true sine wave form power for the load. Additionally, the operating mode of the energy storage battery could be chosen and modified to fit for various energy storage invironments.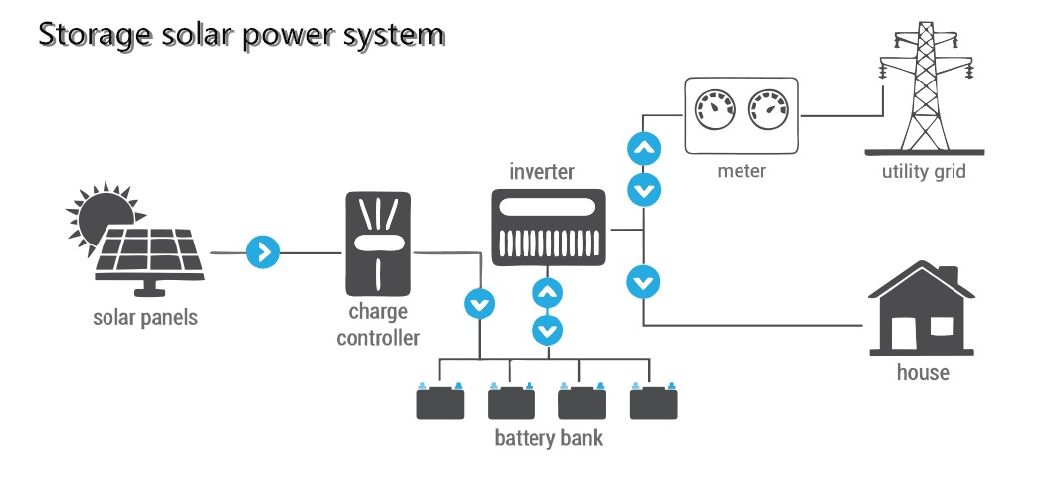 [Product name] 5kw home stand alone solar power system
| | |
| --- | --- |
| Type : | Hybrid storage |
| Max.Power : | 5,500W |
| Output Voltage : | EU And US Standard |
| Certificate : | TUV, ETL, ISO, CE |
| Lead Time : | 10 Days |
| Payment : | T/T, L/C |
[Components list]
Item

Model

Description

Quantity

1

Solar Panel

Poly 320W solar panel

17 pieces

2

Combiner Box

8 inputs 2 outputs

1 piece

3

Battery

12V 250Ah (adjustable)

4 pieces

4

5kw Storage

Inverter

AC220V-240V, 50/60Hz

1 piece

5

Mounting Support

Pitched / flat roof, ground

1 set

6

Cable

Single-core 4mm2 and 16mm2 PV cable

200 meters

7

Connector

MC4 connector

10 pairs

8

Tools Bag

5 kinds of PV installation tools

1 bag


More details
Components 01

Solar Panels

25 years Warranty
Highest conversion efficiency of 17%
Anti-reflective and anti-soiling surface power loss from dirt and dust

Excellent mechanical load resistance
PID Resistant,High salt and ammonia resistance







Components 02

Storage Inverter

5 years standard warranty
Max.Efficiency 99.6%,European efficiency 99%;
Integrated DC switch for added safety protection;
Power factor continuously adjustable
Transformer-less design and high power density,
off lighter and more convenient installation
Flexible communication connection,support RF WIFI

Components 03

Charge controller

MPPT charge controller optimizes the voltage of the PV array to maximize total power output then convert that to the correct voltage to charge the battery.

It can boost system performance by up to 30% and make the system very cost effective.









Components 04

Integrated battery rack

Modular design concept with an integral racking system that can be installed more quickly and easily.

The Absorbed Glass Mat (AGM) cell design incorporates thick positive plates to extend battery life.

Components 05

Energy storage system (Optional Upgraded version)

The intergrated system includes inverter, battery charger, mo-nitoring and batteries.

Self-sufficient

Modular battery

Intelligent control

Long lifespan

Essential load oritected

5KW integrated system








Components 06

Mounting structure

Installed on groud or rooftop
Strictly tested according to design standard
Simple installation exercise with high efficiency
Anodized aluminum & stainless steel material with high du-rability.

Components 07

Accessories

PV Cable 4 sqr.mm & 6 sqr.mm
AC Cable
DC Switches
AC Breaker
AC/DC Combiner box




Related products